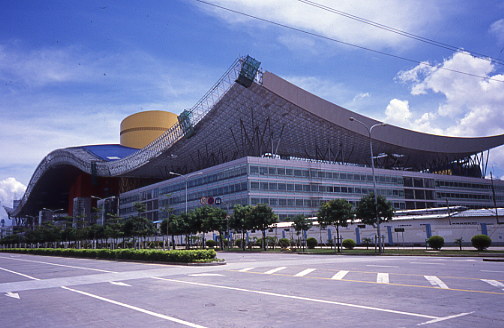 Name of building

Shenzhen Citizen Centre

Construction year

2004

Structural system

Space Frames

Primary use

Office building complex

Architect

Li Mingyi / Ting Qiule Architectural Design Business Office(USA) + Shenzen Architectural Design and Research Institute + Navy Engineering Design and Research Bureau.

Architect2

Structural engineer

Constructor

Professional

Country

CHINA

Address

Shennan XiLu/Jintian Lu, Shenzhen

Means of transportation

Bus #204, K204 from Sandao Zhongxin to Shekou Port. Get off at Gaojiao-Huiguan.north-east 500m.

Admission

Outside : OK Inside : OK

Reference

①IASS Symposium 2001 Nagoya,TP-192.
②Journal of IASS, No.151, August 2006, pp.156-157.

Note

width:from 120m to 154m at two ends. length:486m.
thickness:from 2.2m to 9m.building area:40,000m².
Photo taken on September 17,2003.
« Previous Page