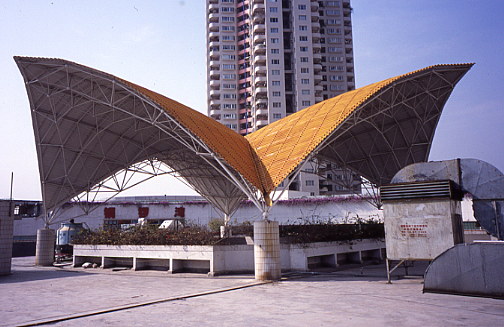 Name of building

Atrium Canopy of Huagiaocheng General Market

Construction year

1991

Structural system

Space Frames

Primary use

Market

Architect

Architect2

Structural engineer

F. Chu Xinhong, Spaceframes Co

Constructor

Professional

F. Chu Xinhong, Spaceframes Co

Country

CHINA

Address

Xinglong St,/ Xinglong West St, Huaqiaocheng, Shenzhen

Means of transportation

500m north from newly built subway Huaqiaocheng Station. near super Wal*Mart. Bus #204 from Sandao Zhongxin to Shekou Port. Get off at Shijiezie-Chuang (window of the world). 2km east.

Admission

Outside : OK Inside : OK

Reference

Ref: 4th International Conference on Space Structures, Univ of Surrey ,1993, p.1264.

Note

Photo taken on January 13,2004.
« Previous Page