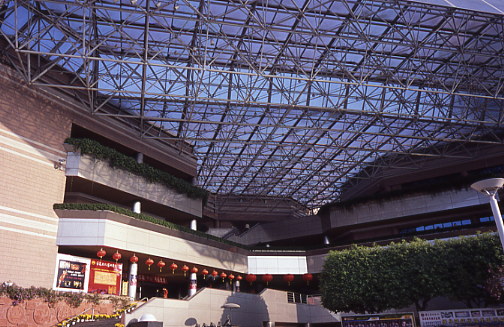 Name of building

Huaqiaocheng Huaxia Art Center

Construction year

1990

Structural system

Space Frames

Primary use

Theater

Architect

Zhaug Fupei, Zhau Ping & Zeng Jun of Architectural Design Institute of Municipal Construction Division

Architect2

Structural engineer

Constructor

Professional

Country

CHINA

Address

Shennan Dadao/Hoaqiaocheng, Shenzhen

Means of transportation

1km west from newly built subway Jinxiu-Zhonghua Station. 1kmn west.
Bus #204 from Sandao Zhongxin to Shekou Port. also bus #207 from Sandao Zhongxin and #327, 507 from Airport.
Get off at Shijiezie-Chuang (Window of the world). 2.5 km east.

Admission

Outside : OK Inside : at the time of events.

Reference

Ref: Illustrated Chinese Architectural History at Modern Age, Zou Denong, Chinese Architectural & Industial Press, 2001, p. 277.

Note

Photo taken on January 13,2004.
« Previous Page