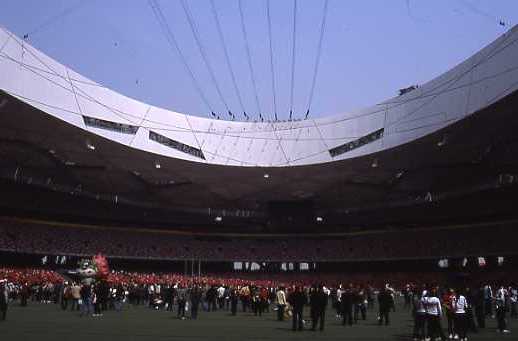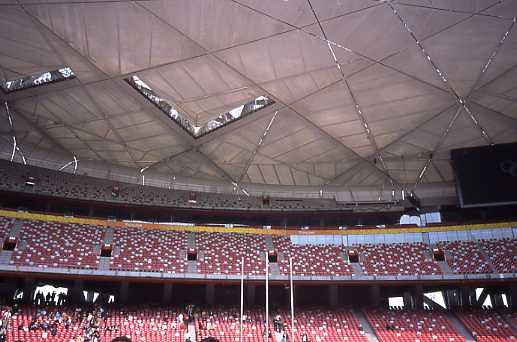 Name of building

National Stadium (Bird's Nest)

Construction year

2008

Structural system

Curved flat trusses

Primary use

stadium

Architect

Herzog & de Meuron,Basel +China Architectural Design and Research Group

Architect2

Structural engineer

Ove Arup & Partners.,Hong Kong

Constructor

Professional

Country

CHINA

Address

Beichen Donglu,Olympic Park,Beijing

Means of transportation

1.2km north-east from subway Olympic Sports Center Station on Line 8.

Admission

Outside :OK Inside :OK50 RMB(April 2009).entrance Gate L

Reference

Reference:Development of Spatial Structures in China,Asso for Spatial Structures,China Steel Construction Society,2006.10.pp.1-2.Olympic Architecture Beijing 2008 Beijing Institute of Architectural Design,Birkhauser,Basel,2008.pp.2-19.

Note

steel structure + membrance structure(W=296.4m × L=332.3m.roof highest:=68.5m/lowest point=42.8m.roof opening:W=127.5m × L=186.7m.roof weight: 700kg/㎡)Contactors:Shanghai Baoye Construction Co.,Ltd+Beijing Urban Construction Group Ltd.upper membrane外膜材料:ETFE Covertex Gmbh,Germanylower membrane内幕材料:PTFE Beijing N&L Fabric Technology Company Ltd.
« Previous Page