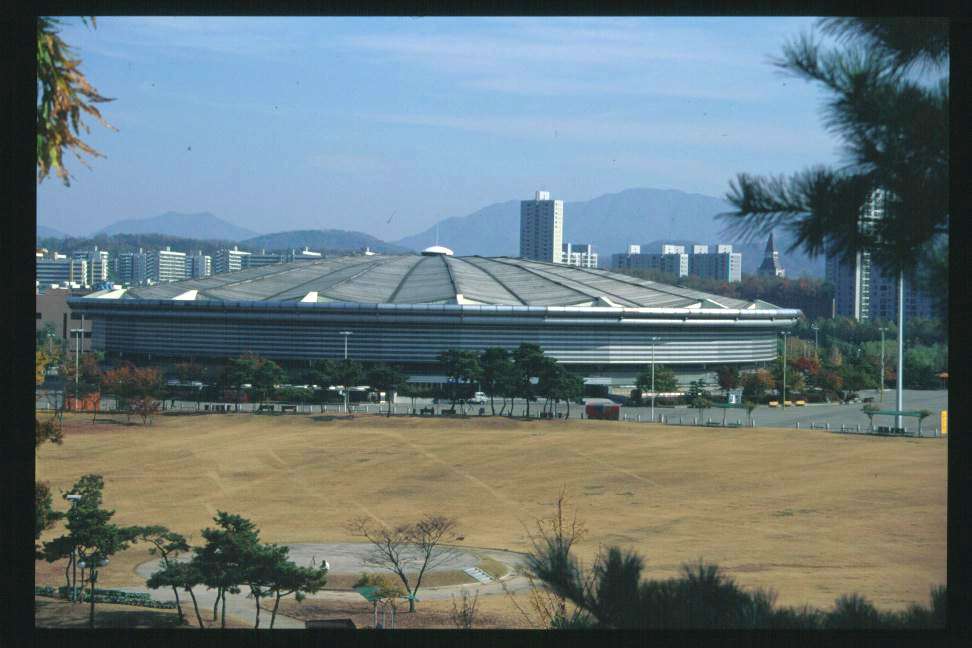 Name of building

Gymnastic Stadium (Gymnastic Hall)

Construction year

1986

Structural system

Curved flat trusses

Primary use

Field

Architect

Kim Swoo-geun + Ryu, Choon-soo

Architect2

David Geiger

Structural engineer

Geiger Associates, NY.

Constructor

Sang-Yong Endineering & construction

Professional

O.D.C. Atlanta, GA (membrane)

Country

KOREA

Address

Olimpic Park, Scoul

Means of transportation

walking 700m from Subway Olympic Park Station on Line-5.

Admission

Outside : OK Inside : ??
At the time of events only.

Reference

①ISOSA-1990 International Symposium on Sports Architecture, Beijing, 1990, p.48-54,112-117.
②Architectural Guide to Seoul, Korean Institute of Architects, Bal-Eon Publishing, 1995, p.350
③『世界の膜構造デザイン』石井一夫編。新建築社。1999.212頁-215頁+299頁。
Membrane Designs and Structures in the World, Kazuo Ishii, Shinkenchiku-sha, 1999, p.212-215+299.

Note

Span : 120m Height : 30m Membrane area : 1310m²
A Facility of Seoul Olympic 1988.
Tensegrity structure.
« Previous Page