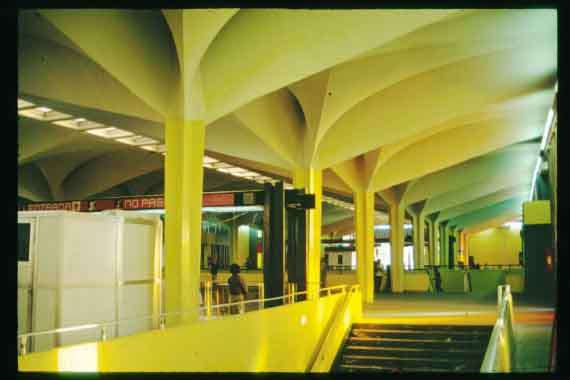 Name of building

Estacion de Metro Candelaria

Construction year

1967

Structural system

Shell

Primary use

Subway Station

Architect

Architect2

Felix Candela

Structural engineer

Felix Candela

Constructor

Professional

Cubier Ala S.A.

Country

MEXICO

Address

Estacion de Metro Candelaria, Mexico, D. F.(Linea-1)

Means of transportation

Estacion de Metro Candelaria(Linea-1).

Admission

Outside : OK Inside : OK

Reference

①Felix Candela, Supervisor; Yutaka Saito, Editor; Naomi Miwa..
Forewords; Felix Candela, Ove Arup, Frei Otto, Mamoru Kawagucxi, Riicht Miyake, Mutsuro Sasaki Published by TOTO Shuppan, Tokyo on August 10,1995, pp.186-193. Japanese Language
②IASS Bulletin No.71+72, September 1979, p.27-38, Fig.13.
Notes for History The development of thin shell in Mexico, by Felix Candela.
③IASS Bulletin No.88, Auguest 1985, p.5-10. Fig.5.
Felix Candela and structural art, by David P.Billington.

Note

Structural system:Shell,RC
Photo taken on January 30,1994 and February 2+3,2001. ③-100.⑩-107.
The owner of Cubiertas Ala S.A. is Félix Candela.
« Previous Page