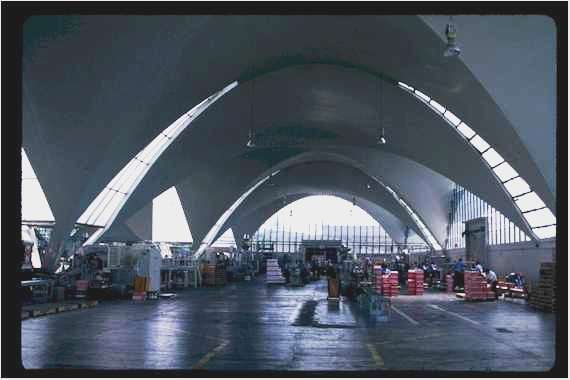 Name of building

Bacardi y Cia

Construction year

1960

Structural system

Shell

Primary use

Bottling Plant / Factory

Architect

Saenz Cancio Martin Alvarez Gutierrenz

Architect2

Felix Candela

Structural engineer

Felix Candela/Consulting Engineer : Luis Torres Landa.

Constructor

Professional

Cubiertas Ala S.A.

Country

MEXICO

Address

Autopista Mex-Qro. 4431, Tultitlan, Estado de Mexico.

Means of transportation

Autobus to tultitlan from Estacion de Metyo Cuarto Caminos.(Linea-2).
Taxi is available at the station.

Admission

Outside : NO Inside : NO
An appointment is necessary in advance.

Reference

①Felix Candela, Supervisor; Yutaka Saito, Editor; Naomi Miwa..
Forewords; Felix Candela, Ove Arup, Frei Otto, Mamoru Kawagucxi, Riicht Miyake, Mutsuro Sasaki Published by TOTO Shuppan, Tokyo on August 10,1995, pp.136-159. Japanese Language
②IASS Bulletin No.71+72, September 1979, p.27-38, Fig.31-34.
Notes for History The development of thin shells in Mexico, by Felix Candela.
③IASS Bulletin No.88, August 1985,p.5-10. Fig.6.
Felix Candela and structural art, by David P. Billington.
④Builder in The Sun, Five Mexican Architects, Clive Bamford Smith, Architectural Book Publishing Co,, Inc. NY,1967,p.106.
⑤Arquitectos Contemporaneos de Mexico, Louise Noelle, Editorial Trillas, Mexico, D. F. 2nd Edition, 1993. p.31.
⑥Candela/The Shel1 Builder, Colin Faber, Reinhold Publishing Corporation, NY,1963, p.184.

Note

Structural system:Shell,RC
Photo taken on February 14,1995. ③-85.
@Span:30m x length:30m.
Originally nine of 30x30m shells were built. Now six of them are remaining.
The owner of Cubiertas Ala S.A. is Félix Candela.
« Previous Page