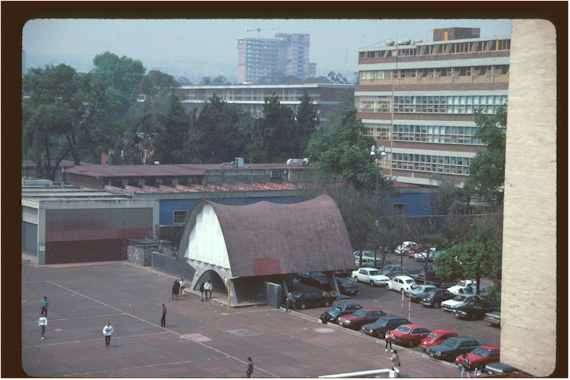 Name of building

Pabellones de Rayos de Cosmicos

Construction year

1951

Structural system

Shell

Primary use

Observation for Cosmic Rays

Architect

Jose Gonzalez Reyna / colaboracion arquitecto: Rafael Arozarena

Architect2

Felix Candela

Structural engineer

Felix Candela

Constructor

Professional

Cubiertas Ala S.A.

Country

MEXICO

Address

Ciudad Universitaria. Mexico, D. F.

Means of transportation

Walking 1.5km from Estacion de Metro Universidad(Lenia-3).

Admission

Outside:OK, Inside:NO
Stand on the public space.

Reference

①Felix Candela, Supervisor; Yutaka Saito, Editor; Naomi Miwa..
Forewords; Felix Candela, Ove Arup, Frei Otto, Mamoru Kawagucxi, Riicht Miyake, Mutsuro Sasaki Published by TOTO Shuppan, Tokyo on August 10,1995, pp.170-175. Japanese Language
②IASS Bulletin No.71+72, Seprember 1979, p.27-39, Fig.23-24.
Notes for History The development of thin shells in Mexico, by Félix Candela.
③IASS Bulletin No.88, August 1985, p.5-10. Fig.1.
Félix Candela and structural art, by David P.Billington.
④Candela/The Shell Builder, Colin Faber, Reinhold Publishing Corpotation, NY, 1963, p.29-32.
⑤Arquitectos Contemporaneos de Mexico, Louise Noelle, Editorial Trillas, Mexico, D.F. 2nd Edition, 1993. P.31+77.

Note

Shell, RC
Photo taken on January 25,1994 and February 6,1995. ③-111
Span:10.75m. Length:12m. Shell height:6m. Shell thickness:1.5cm(5/8 inch)
The owner of Cubiertas Ala S.A. is Félix Candela.
« Previous Page