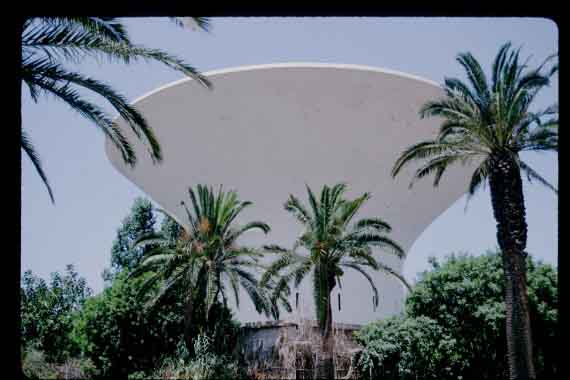 Name of building

Depósito de Agua de Fedala [Water tower]

Construction year

1956

Structural system

Shell

Primary use

water tower

Architect

Architect2

Structural engineer

Eduardo Torroja,Alfred Paez,Florencio Del Pozo

Constructor

F.Fernández

Professional

Country

MOROCCO

Address

near the Mohammedia Train Station

Means of transportation

walking 800m from Mohammedia Train Station to north - east

Admission

outside:OK
can be seen from Mohammedia Train Station

Reference

①Informes de la Construccion No.137,Instituto Eduardo Torroja de la Construccion ydel Cemento,Madrid,1962,project No.581-18.
②IASS Bulletin No.90,April 1986,p.10+11,Fig.7+8.
③IASS Bulletin No.102+103,April-August 1990,front cover
④The structures of Eduardo Torroja.Eduardo Torroja , foreword by Mario Salvadori , F.W.Dodge Corporation , NY , 1958 , p.113-116

Note

Taking pictures in front of the public is dangerous.
Mohammedia was called as Fedala.
Mohammedia is a beach resort along by Atlantic Ocean.
depósito stands in housing area on the hill.
depósito diameter:upper part 40m,lower part 18m
height:25m,depth of water tank:9m
photo taken on June 15,1994.④-164.
« Previous Page