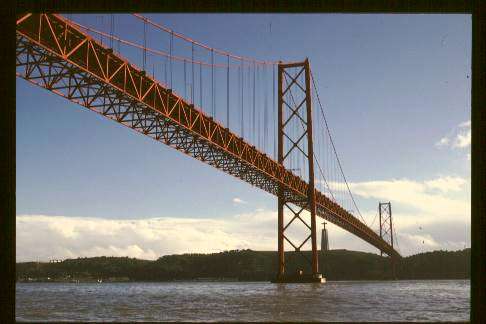 Name of building

Ponte 25 de Abril [Car bridge]

Construction year

1966

Structural system

Bridge,suspention

Primary use

Architect

American design consultancy including Steinman's group

Architect2

Structural engineer

Constructor

Professional

Country

PORTUGAL

Address

Avenida da Ponte,Lisboa

Means of transportation

4km from Praça da Figueria.tram#15.off at Estaçâo de Sto.Amaro

Admission

Reference

①Bridges,David J.Brown,Mitchell Beazley,London,1993,pp.114-115.

Note

former name:Salazar Bridge.
Europa's longest bridge.
main span:1,013m.side span:483m each.height:190.5m.height under the girder 70m.
road bridge.
1974.4.25=revolution anniversary
photo taken on January 21,1996.④-170.
« Previous Page